Featured Lodging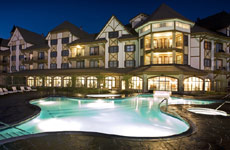 Boyne Mountain Resort
Hotel Walloon
Boyne City – Boyne Falls – Walloon Lake Featured Lodging
Boyne Mountain Resort
The Mountain Grand Lodge serves as the anchor to the new Village at Boyne Mountain. This resort hotel is destined to become the benchmark for all four season accommodations and services. The Mountain Grand's interior features 220 luxurious rooms of one, two, three and four bedroom suites. These spacious accommodations carry the resort1s theme to [...] more...
Hotel Walloon
Hotel Walloon, where guests can enjoy the charm and hospitality of the early twentieth century along with the comforts of every modern amenity. Settled against the breathtaking backdrop of Walloon Lake, this independently owned and operated boutique hotel features 32 unique, elegant and comfortable guest rooms. Hotel Walloon offers all the modern amenities of today with the [...] more...
Walloon Lake Cottage Rentals
A Uniquely Scenic Setting on Walloon Lake Located between Wildwood Harbor and the Mackinaw State Forest on Walloon Lake's central basin, Sunterra on Walloon offers beautiful hiking trails in addition to boating. One of the Last Original Walloon Lake Cottages Built in 1917 Built in 1917 as a part of Wildwood Harbor, Sunterra on Walloon was initially a [...] more...
Boyne City – Boyne Falls – Walloon Lake Featured Dining
Forty Acres Tavern – Boyne Mountain
Forty Acres Tavern celebrates the spirit of that fortuitous transaction - taking the pleasure of the familiar to completely new territory. Equal parts watering hole and refueling station, Forty Acres offers a satisfying selection of spirits and hand-crafted cocktails, a roster of 40 beers. more...
Everett's Restaurant & Lounge – Boyne Mountain
One of the great pleasures of a vacation at Boyne Mountain is looking forward to your next meal – usually when you're halfway through the one you're eating. Good food is part of what sets the resort apart – and Everett's sets our standard for exceptional deliciousness. Which, for the record, is much better than [...] more...
Cafe Santé – Boyne City
European Classics A casual, European-style bistro serving The Classics— simply and with flair. Featuring Belgian beers, wood-fired pizzas, mussels and frites, pastas, Panini, unique breakfasts and casual cuisine from other fine European traditions. Serving Breakfast, Lunch & Dinner. Outdoor Dining Enjoy the finest patio in Boyne City! With both covered and open air sections and a glass wall [...] more...
Red Mesa Grill – Boyne City
Latin American Flavors Mexican, Caribbean, South American, Central American; all of the flavors of Latin America are celebrated at Red Mesa Grill. We offer traditional dishes and exotic specialties prepared with the freshest ingredients using our unique and flavorful recipes. Take-Out Menu Our entire regular menu is also offered on a carry-out basis, with many selections available in [...] more...
Walloon Lake Inn
Built in 1891, the Walloon Lake Inn is a historic landmark known for exquisite food, extensive wine lists and waterfront dining. Guests at the Inn can enjoy a casual fine dining experience either inside the main dining room or outside on our patio overlooking picturesque Walloon Lake. The unique half circle bar offers craft cocktails [...] more...
Barrel Back Restaurant – Walloon Lake
Our menu consists of simple foods, prepared carefully in our unique kitchen. Our kitchen is unique because we have a wood fired pizza oven, a wood fired grill, and a wood fired rotisserie smoker! This, along with our talented staff, allows us to create dishes with outstanding flavor and quality. We have about 118 indoor seats, 60 patio [...] more...
Boyne City – Boyne Falls – Walloon Lake Featured Golf Courses
Boyne Mountain – The Monument
The Monument golf course is a composite of dramatic and challenging golf holes of widely varying character, reflecting the distinct design philosophies of such noted architects as Donald Ross, Dr. Alister Mackenzie, Robert Trent Jones, George Fazio, and Pete Dye. It is dedicated to great golf course architecture and to those who have left lasting imprints [...] more...
Boyne Mountain – The Alpine
Home of the Tournament of Champions, The Alpine weaves down the mountainside toward spectacular Deer Lake. Stunning vistas with strategically placed water hazards and bunkers provide a thrilling round. Rich in character, memories are sure to follow you long after your round is complete. The Alpine has a great deal of diversity in its [...] more...