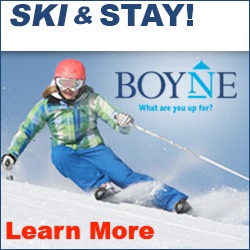 Boyne Mountain Ski Resort
With 60 downhill runs, Boyne Mountain's commitment to skiing is every bit as strong as it's always been. When snowboarding came along, Boyne was quick to welcome new generations of riders to the slopes – and to make way for seven terrain parks where skiers and snowboarders alike could catch air and push winter's boundaries. Add the [...] more...
Boyne Highlands Ski Resort
Over the years, the Boyne Highlands tradition has grown to embrace the winter season like a homecoming.  When winter arrives each year,  we're in our element — ready to share Michigan's finest skiing and snowboarding with longtime friends – and a steady stream of new ones. At Boyne Highlands, our winter visitors have access to 55 [...] more...
Nub's Nob Ski Area
Welcome to Nub's Nob Ski Area in Harbor Springs, Michigan. Now in our 57th season, our award winning Crew provides first class skiing and snowboarding to ensure your winter ski experience is the best it can be. more...
Petoskey Area Ski News, Specials and Events
Boyne Mountain – 9th Annual Skitoberfest – October 7, 2017
[ October 7, 2017; ] We love October for one reason...it means it's almost winter! Okay, so we also like when the leaves change color, that there are pumpkins and mums on every corner, and the taste of a nice fall Michigan brew. We like all of these things so much, that we decided to throw an epic party to [...] more...
Boyne Snowmaking: Making Winter When Mother Nature Fails
Sure, Mother Nature can make beautiful stuff. She'll wow you when you wake up to a lovely few inches of glittering flakes as rare and precious as diamonds. But Mother Nature is an unpredictable and sometimes temperamental creature. She'll tease you and taunt you with a mid-October four inches of surprise powder that will urge you [...] more...
Winter 2016 – 2017: What's New At Boyne Mountain
Boyne Mountain is getting bigger this winter with the addition of two new retail stores and a new activity fort for kids. The resort is also offering expanded night skiing terrain, a fully renovated salon, new snowshoe supper, and the delivery of provisions for the 2016/17 winter season. Gear Up with New Stores in the [...] more...
Winter 2016 – 2017: What's New At Boyne Highlands
Michigan's largest ski resort, Boyne Highlands, is offering new experiences for the 2016/17 winter season including nighttime cross country skiing and snowshoe dinners, as well as an expanded Tubing Park, Rossignol snowboard demos, and a new program director for the resort's children ski instruction and coaching program. On The Trails and Slopes Enjoy solitude on the trails [...] more...
<>