Featured Golf Resorts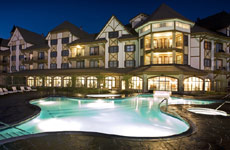 Boyne Mountain Resort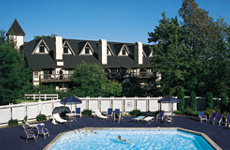 Boyne Highlands Resort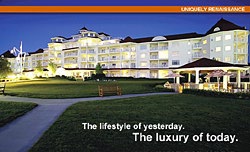 Inn At Bay Harbor
Petoskey Area Golf Resorts
Boyne Mountain Resort
The Mountain Grand Lodge serves as the anchor to the new Village at Boyne Mountain. This resort hotel is destined to become the benchmark for all four season accommodations and services. The Mountain Grand's interior features 220 luxurious rooms of one, two, three and four bedroom suites. These spacious accommodations carry the resort1s theme to [...] more...
The Highlands at Harbor Springs
The Highlands offers true old-world flavor with friendly northern Michigan hospitality. At the center of the Highlands resort experience is the Main Lodge. Situated at the base of the slopes, it features a lively restaurant, the casual Slopeside Lounge, and the family-friendly outdoor pool and hot tubs.The Bartley House is a stone and timber continental [...] more...
The Inn At Bay Harbor & Spa
The Inn at Bay Harbor – A Renaissance Golf Resort, is the centerpiece of Bay Harbor Development, which is set along 5 miles of Lake Michigan shoreline.The Inn at Bay Harbor affords owners and guests the finest accommodations services available in the center of northern Michigan's most renowned 4 season resort area. The Inn features [...] more...
Petoskey Area Golf Courses
Bay Harbor Golf Club
2013 is the year to play at Bay Harbor Golf Club Take advantage of our lowest pricing ever on daily rates -or- add a round at Bay Harbor to any BOYNE golf package for as low as $45! Call 800.462.6963 and ask our reservations agent for more details. Our northern Michigan golf courses showcase sweeping [...] more...
Bay Harbor – Crooked Tree Course
The Crooked Tree Golf Club is perched on bluffs high above Bay Harbor and near Petoskey Michigan. The course was sculpted from centuries-old hardwoods, and the back nine opens to breathtaking views of Little Traverse Bay and Lake Michigan. Though it is the shortest of the BOYNE courses, blind shots and incredible greens will challenge and delight [...] more...
Boyne Highlands – The Heather
BOYNE's very first golf course, The Heather by Robert Trent Jones has stood the test of time as an elite, best of the best, championship course. Its wonderful test of golf, combined with some of the most premier playing conditions in the mid-west, is why the Golf Association of Michigan selected [...] more...
Boyne Highlands – The Arthur Hills
An amazing spectacle of design and beauty. A colossal course that requires patience and respect. The Arthur Hills course boasts many traps and hazards to trip up even the best of players. A must-play course for every serious golfer. Arthur Hills trademarks are all throughout with generous fairways leading to intense green [...] more...
Boyne Highlands – The Donald Ross Memorial
Where else can you experience playing the combined history of 14 U.S. Opens, 11 PGA Championships, 8 U.S. Amateurs, and 3 Ryder Cups all in 4 hours? The Donald Ross Memorial is a composite of classic golf holes designed by Donald Ross in the early part of the century and re-created at [...] more...
Boyne Highlands – The Moor
The Moor features numerous doglegs, marshes and water holes along its 6850 yards. A well designed course for players of all levels. The Moor was the second course built at Boyne Highlands and is host to many exciting events including the AJGA's Coca-Cola Championship (July), Kircher Cup (September), and Harbor [...] more...
Boyne Mountain – The Monument
The Monument golf course is a composite of dramatic and challenging golf holes of widely varying character, reflecting the distinct design philosophies of such noted architects as Donald Ross, Dr. Alister Mackenzie, Robert Trent Jones, George Fazio, and Pete Dye. It is dedicated to great golf course architecture and to those who have left lasting imprints [...] more...
Boyne Mountain – The Alpine
Home of the Tournament of Champions, The Alpine weaves down the mountainside toward spectacular Deer Lake. Stunning vistas with strategically placed water hazards and bunkers provide a thrilling round. Rich in character, memories are sure to follow you long after your round is complete. The Alpine has a great deal of diversity in its [...] more...
Boyne – Hidden River Golf & Casting Club
Located less than ten miles from Boyne Highlands Resort, this northern Michigan gem affords visitors an unforgettable setting, impeccable course conditions, exceptional guest service and an exquisite menu. Whether you visit frequently or are a first time visitor, you can immediately recognize that Hidden River is unique from other courses in northern [...] more...
Belvedere Golf Club
Belvedere Golf Club is located in Charlevoix and is one of Michigan's historic golf venues. "One of the great highlights of golf…is the discovery of the hidden gems along the way. Go to Ireland for Ballybunion and if you are lucky you will happen upon the Dukes. Go to St. Andrews for the Old Course [...] more...
Dunmaglas Golf Course
Located in Charlevoix, this course offers rolling terrain, mature forests and awe-inspiring views. This is just part of the story at Dunmaglas. Ranked as one of the "Best 50 Upscale Courses in the United States" by Golf Digest, this 6,897 yard masterpiece features 18 of the most scenic and breathtaking holes you will ever play. Now operated [...] more...
Little Traverse Bay Golf Club
Seated upon one of the highest bluffs in the area, LTB offers magnificent vistas of Lake Michigan, Little Traverse Bay and three other inland lakes. This "hidden gem" is a must see stop during a northern Michigan trip. Four tee selections make Little Traverse Bay Golf Club a favorite for all. Elevated tees and many [...] more...
Charlevoix Country Club
The Charlevoix Country Club is a beautiful golf and social club open to the public with golf and social memberships available; just 2 miles from downtown! Located on thousands of acres of lush golf greens and property, Charlevoix Country Club offers several levels of membership to enhance your lifestyle. Members may enjoy championship golfing, tennis courts, pool, [...] more...
Charlevoix Golf Club
Come Play one of Michigan's oldest golf clubs, established in 1896! Country club conditions at municipal pricing! The Charlevoix Golf Club is a beautiful 9 hole, par 36 course designed by Scottish Architect Willie Watson. The Course is conveniently located on the north side of Charlevoix, close to public beaches on Lake Michigan and Lake [...] more...
Antrim Dells Golf Club
For more than 30 years, The Dells has been one of Northern Michigan's favorite courses to play. This classic Jerry Matthew's design surrounds the golfer with natural beauty and spectacular views. The front nine features a beautiful parkland setting with acres of mowed grass, which allows a smooth transition into the woods and creeks of [...] more...
Black Lake Golf Club
Since it's opening in 2000, Black Lake has received many national awards and rankings. The 2009-2010 Golf Digest has selected Black Lake as #34 in their rankings of "100 Greatest Publlic courses in the United States". Black Lake Golf Club is an 18 hole public golf course designed by nationally acclaimed architect Rees Jones, most known [...] more...