Featured Lodging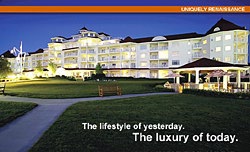 Inn At Bay Harbor
Bay Harbor Featured Lodging
The Inn At Bay Harbor & Spa
The Inn at Bay Harbor – A Renaissance Golf Resort, is the centerpiece of Bay Harbor Development, which is set along 5 miles of Lake Michigan shoreline.The Inn at Bay Harbor affords owners and guests the finest accommodations services available in the center of northern Michigan's most renowned 4 season resort area. The Inn features [...] more...
Bay Harbor Featured Dining
Sagamore's – Bay Harbor
Sagamore's is an elegantly appointed dining room with a bank of French doors overlooking Lake Michigan's Little Traverse Bay. Cushy crimson booths and historic photos of Victorian cruise ships that long ago sailed local waters harken to a romantic place and time. Award winning service and a gracious setting "set the table" for a series [...] more...
Knot Just A Bar – Bay Harbor
Whether you're looking for a nice place for family dining, the happening nightclub, or a cool place to hang out by the water and while away the day, it's all at Knot Just a Bar. The original Knot Just a Bar is located in the Harbor Master Building in the Bay Harbor Marina District. Residents [...] more...
Original Pancake House of Bay Harbor
The Original Pancake House is a second and third generation family business, which takes great pride in maintaining the high standards that make our food so outstanding. We now have over one hundred franchises from coast to coast, which have won local and national acclaim. Our recipes demand only the very finest of ingredients, such [...] more...
Bay Harbor Featured Golf Courses
Bay Harbor Golf Club
2013 is the year to play at Bay Harbor Golf Club Take advantage of our lowest pricing ever on daily rates -or- add a round at Bay Harbor to any BOYNE golf package for as low as $45! Call 800.462.6963 and ask our reservations agent for more details. Our northern Michigan golf courses showcase sweeping [...] more...
Bay Harbor – Crooked Tree Course
The Crooked Tree Golf Club is perched on bluffs high above Bay Harbor and near Petoskey Michigan. The course was sculpted from centuries-old hardwoods, and the back nine opens to breathtaking views of Little Traverse Bay and Lake Michigan. Though it is the shortest of the BOYNE courses, blind shots and incredible greens will challenge and delight [...] more...