Julienne Tomatoes – Petoskey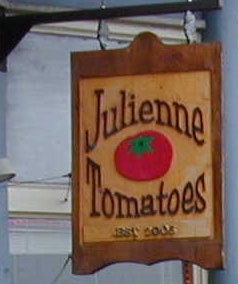 A great place to eat in Petoskey, Michigan! The entire staff at Julienne Tomatoes has worked very hard to make this restaurant a success. It is very rewarding to be recognized by our customers as well as respected publications for our food, service and employees. Thank You!

We are living our dream in Northern Michigan and invite you to stop in and enjoy our passion. Expect great recipes using 
locally grown ingredients.

We are committed to great food. Fresh baked goods, housemade soups and service with a smile every time.

We proudly participate in the Michigan Land Use Institute's 
"Taste the Local Difference" campaign & support over 20 Michigan Companies and 15 Local Farms.

Julienne Tomatoes
421 Howard St
Petoskey, MI 49770
(231) 439-9250

Julienne Tomatoes – Photo Gallery – Click on photos for slideshow view.





<>

Visit Julienne Tomatoes Website >>>>

<>
Julienne Tomatoes On Facebook
Below are the latest postings from the Julienne Tomatoes Page On Facebook.
<>
*Quarantine Day 57*
Here I sit anxious and eager...Working has always been a dominant part of my life, sometimes 3 jobs at a time...and here I sit...I am a warrior, and here I sit...

Honestly, nothing in regard to COVID-19 has really changed...still no cure, (although maybe better treatment methods), still no vaccine, (this takes time), still shortages on supplies for our medical workers, (back to asking for homemade masks), symptoms still undetectable, still people dying at alarming rates, employees are still concerned with contracting the virus or spreading it to vulnerable loved ones, and still, the worst internal struggle, "What if someone who I work with, or a devoted customer, or a dedicated delivery driver, or a neighbor, unintentionally contracts the virus from my Restaurant?" Was it worth it? Could I live with that? The answer is no! I personally fall into the demographic with the highest percentage of infection as a 50 year-old female. The majority of our customers are over 50, the second highest percentage.

Am I afraid? No. Am I realistic? Yes. Can we take precautions? Of course we can, and we are, and we will.
We have purchased face masks, we have purchased hand sanitizer, we are installing a plexiglass shield at the checkout counter, we have purchased a portable, wireless checkout device. We have ordered Tomato decals for the floor to promote proper social distancing. We have no trouble handling carryout orders, we take pride in the disposables we offer and the sources we acquire them from, we "know how" to sell food out our front door. Our crew has always worn gloves, we have always kept a clean kitchen, we have always handled food properly, we always use bleach, we always take care of each other, we always try to promote healthy living, we always sanitize all surfaces that our customers come in contact with, we always pass health inspections with flying colors, we always celebrate our victories, we always hold each other accountable, we always take pride in what we do. We constantly reinforce proper procedures with all of our crew, regardless of their position, we all have checklists, and clean-up lists and auxiliary clean-up lists, we always receive compliments from our vendors and service providers in regard to our pleasant employees, and clean facilities. But this COVID-19 is different, it's new, it's unknown, and still no User Guide.

So for now, we will wait...

We would all LOVE to be back to normal and spreading love and joy with our delicious food and desserts, but for now we wait...

We hope that you respect and understand this decision, and that you will wait with us, and for us.

A special thank you to all of those who have reached out to purchase gift cards, we appreciate your confidence in us and support.

Sincerely,

Julie ... See MoreSee Less
Thanks to all for your support and understanding. 🍅❤️🍅
Well said Julie...so proud of you... its nice to see your customers response. Its frightening to watch the crowds demanding restrictions be lifted. Who will they blame if they contract the virus. Not themselves for sure. You set a wonderful example for your customers and your community. Love you daughter, J and K .
You were definitely given the gift of a beautiful soul! Thank you for staying true to your beliefs for the greater good. You are THE BEST!
I'll be one of the first in the socially-distanced-six-foot-away-from-each-other line when you are back!
This is why I love you! You are so thoughtful and RESPECTFUL of others! Thank you Julie! I will wait and when I next get to visit your restaurant and your amazing staff I will show you the same respect by responsible distancing and wearing a mask!💕
You are always loved and appreciated no matter what decisions and choices you make. I sit in FL till it calms down in Michigan. I want to come home so badly. Stay safe our dear JULIE.💕
Thanks for the great rant. Hope the powers to be listen, MISS YOUR GREAT FOOD AND FRIENDSHIP.
We look forward to seeing you when we get there in July. Stay safe and healthy.
We respect and support your decisions and will wait for you! I'm looking forward to the Ghost of Grain Train and anything with local greens. 🥰
You are my newest heroes. You care about saving lives. When it's safe, I will support you in any way I can. Thank you!
Very well said . Thank you for thinking of the safety of your customers .
What a great post from a great restaurant! You are being honest and realistic without being alarmist. I hope you can open back up as soon as you are comfortable doing so.
Looking forward to that Chowda' on Fridays when you are back! Take care.
We miss you; but, share your concern. I'm not sure that life will ever be the same again. 😍😱🌷
Don't mind waiting at all. I look forward to seeing the JT team in action. You all rock.
Thank you. For words of waiting , concern , caution,optimism,hope and goodness. Until later.
Super thoughtful perspective! ❤️🍅❤️
Can't wait to drive up from TC for a delicious lunch once you're up and running! 🙏🏻❤️😋
Well said team CJ alumnus I have to find my way up to your area for lunch someday
I'm with you. Thanks Julie & team.❤️🍅
You are worth the wait, Julie!! 😋🥰😋
Be safe and be blessed 🙏🏻 see you soon.
Of course we will wait. We miss you all ❤️
feel the same. thanks for saying all that out loud
Thank you and you are doing the right thing ,
Load more
<>
Visit Julienne Tomatoes On Facebook >>>
<>