Julienne Tomatoes – Petoskey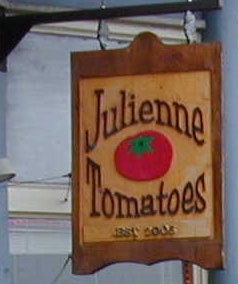 A great place to eat in Petoskey, Michigan! The entire staff at Julienne Tomatoes has worked very hard to make this restaurant a success. It is very rewarding to be recognized by our customers as well as respected publications for our food, service and employees. Thank You!

We are living our dream in Northern Michigan and invite you to stop in and enjoy our passion. Expect great recipes using 
locally grown ingredients.

We are committed to great food. Fresh baked goods, housemade soups and service with a smile every time.

We proudly participate in the Michigan Land Use Institute's 
"Taste the Local Difference" campaign & support over 20 Michigan Companies and 15 Local Farms.

Julienne Tomatoes
421 Howard St
Petoskey, MI 49770
(231) 439-9250

Julienne Tomatoes – Photo Gallery – Click on photos for slideshow view.





<>

Visit Julienne Tomatoes Website >>>>

<>
Julienne Tomatoes On Facebook
Below are the latest postings from the Julienne Tomatoes Page On Facebook.
<>
This message is only visible to site admins
Problem displaying Facebook posts. Backup cache in use.
PPCA Error: Due to Facebook API changes it is no longer possible to display a feed from a Facebook Page you are not an admin of. The Facebook feed below is not using a valid Access Token for this Facebook page and so has stopped updating.
This morning's sunrise was a beautiful start to the end of a trying week...
For the first time in 17 years, our customers are locked out of the restaurant...
Yes, we transitioned our dining room service to curbside and delivery service, and the front door is locked. This was a proactive move in a very strange time. We are not sick and we are not closed due to "exposure". We are working hard to keep it that way.

We endured cold wet mornings, pouring down rain, sheeting at times, 20 mile an hour winds, and a faulty modem on the phone system, all with our skeleton crew and "mostly" smiles under our masks. You were there with us, peering through the window on your cell phones waiting to talk to your favorite counter person.

We are incredibly thankful to our dedicated crew, our Petoskey Chamber of Commerce, and YOU, our devoted, patient, supportive and flexible customers! Thank you to those of you who have reached out with your encouraging gestures and words.

We are all in this together. It is not lost on us that many are fighting for their lives, to keep a roof over their heads, clothes on their back and food in their tummies. Some days fighting to keep your business alive feels insignificant. But what we do is a labor of love, a culmination of literal blood sweat and tears, hardwork, teamwork and perseverance, that feels worth protecting. We serve our community and are thankful for the opportunity.

This Labor Day, we have extended an extra day off for our CREW. They have banded together and have worked tirelessly under EXTREME circumstances, all for one purpose… Survival.

We hope to see you back on Wednesday, September 9th or sometime thereafter. We don't know how long things will stay the way they "are", but fully intend to keep pushing through until we can welcome you back to your favorite place.

Sincerely, Julie🤓🍅 ... See MoreSee Less

One of our favorite places with such a wonderful staff.... we wish you the best and appreciate all you do! We're all in this together! ❤️👍❤️
Thank you for being so considerate of others, Julie! We do appreciate all that you and your staff give to our community. We are with you!
Reading this brought tears to my eyes!! You say what you mean SO WELL! Petoskey: YOU ARE SO BLESSED to claim Julienne Tomatoes AS YOUR OWN!!❤️
Loved my breakfast & quart of buffalo chicken soup that I picked up "to go" this morning! The window display you put out front looked great and it was really nice to order by phone - so that I knew you had what I wanted in the freezer ... felt so lucky to get the last quart today as it's perfect for this cool Fall weather. ❤️🤗
We love you Julie! Piper raved about her lunch this week❤️ We fully support you and your crew.
My favorite restaurant thank you thank you thank you
Thanks for your update and gorgeous shot of a time in morning where I'm still sleeping 😂. Thank you for keeping your team safe and continuing to feed our community. 🙌
We are with you in spirit, even if we can't be there in person. We pray for continued health for each of you, and for the business. Thanks for all your effort to keep this special place open.
So well said!! To you and all the crew, THANK YOU!! Thank you for caring for the community and doing all you can to help make a difference! Love you all!
You're a favorite place for so many of us. ❤️Marvelous food and lovely staff. Way before the awful lockdowns, Julienne Tomatoes was always sparkling clean. We are enthusiastically awaiting your reopening.
Well deserved rest. We can care for others but we must also care for ourselves. Thanks for all you do!!!
Perfectly said. Great group
Thanks for serving our community!
Hang in there Julie ! We are with you !
And you do it with such grace! Hang in there!
Continued prayers and love ❤🙏❤🙏
You are truly one of us and we are one of you. 💜
You guys are the best!! Thank you.
I miss my Hamil's ham sandwich 😋
We are with you all the way.
<>
Visit Julienne Tomatoes On Facebook >>>
<>