Festival On The Bay – Petoskey – August 16 – 18, 2018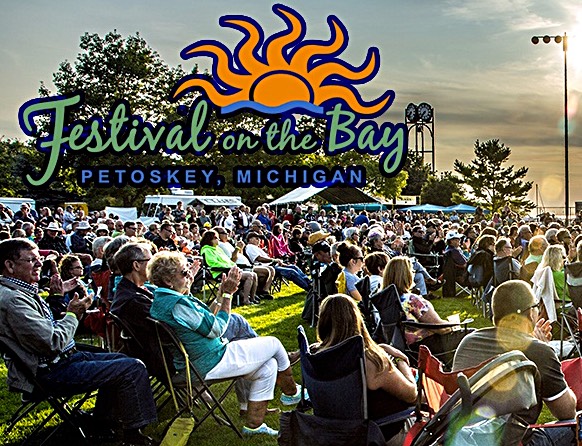 The Petoskey Regional Chamber of Commerce invites you to mark your calendar for the 16th Annual Festival on the Bay, August 16-18, 2018 at the Petoskey, Michigan waterfront.
Every year, visitors enjoy great music inside the Entertainment Tent and a fun Children's Area all weekend.
Other activities include, a Cardboard Boat Race, Waganakasing Bay Day, The BIG Art Show, a Petting Zoo and so much more!
Petoskey Festival on the Bay Entertainment Main-Stage
Dance, jam, and groove by the bay! Bands will rock the Entertainment Main-Stage on Thursday, Friday and Saturday. The entertainment tent is located in the Ed White Ballfield.  Beer, wine, soda, water, and food are available for purchase. Admission is $5 Thursday and Friday after 5:00 p.m. and $10 on Saturday.
Thursday – August 16th
6:30 p.m. – The Easy Picks
7:30 p.m. – Missy Zenker
8:30 p.m. – Ryan Peters Band – Headliner
Friday – August 17th
5:30 p.m. – Too Much of A Good Thing
7:00 p.m. – Petoskey Steel Drum Band
8:30 p.m. – The Marsupials
10:00 p.m. – The Galactic Sherpas – Headliner
Saturday – August 18th
3:45 p.m. – Pine River Jazz Band
5:15 p.m. – The Real Ingredients
6:30 p.m. – The Pistil Whips
7:45 p.m. – The Jelly Roll Blues Band
9:00 p.m. – Tell Yo Mama
10:30 p.m. – Detroit Soul Review – Headliner
<>
Visit Festival On The Bay Website >>>>
<>
Festival On The Bay On Facebook
Below are the latest postings from the Festival On The Bay Page On Facebook.
<>
<>
Visit the Festival On The Bay Facebook Page >>>
<>
Festival On The Bay – Photos From Instagram
Tag your Festival On The Bay instagram photos with #FestivalOnTheBay and they will appear here in our Festival On The Bay Instagram Photo Stream.
<>
Visit Festival On The Bay Website >>>>
<>